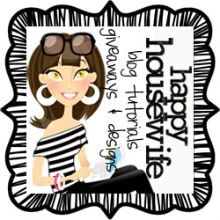 I am always on the lookout for great blog tips to share with my readers. I recently discovered a few over at Happy Housewife Designs. The tips are written in an easy-to-understand manner and include really helpful photos. Lindsay has written a few Twitter tips, too. Check out my faves:
Give Your Pictures Rounded Edges
Get a Dot Com Through Blogger
Add a Share Button
Make a Twitter Background
Twitter Do's and Don'ts
Have you written a blog tip on a topic that I have not already covered? I'd love to check it out! I'm looking for easy-to-understand tips/tutorials with images that show most steps. If you have written something that you'd like to share, please leave the url along with your email address in a comment below. I will contact you if I decide to feature your tip. :)
Psst! Don't forget to enter the
Digi-Doodle Doo giveaway
! Ends this evening (1/11)!